An Interview With Michael J. Mugavero, M.D.
Working Toward a Seamless Continuum of Care
Mascolini: When I was doing research for these articles on testing, linkage, and retention, I saw that many studies are done by people on the policy side or in epidemiology or other non-clinical fields. You're one of a handful of HIV clinicians who have studied these issues closely. What was your motivation for getting into this area of research?
Mugavero: From 2003 to 2006, when I was an infectious diseases fellow working on expanding HIV testing, I began to realize the challenges beyond HIV testing and started thinking about the obstacles to ensuring a continuum of care. Much of my research focused on testing, and then in the clinic I was caring for a lot of people with HIV, but I realized that many barriers and challenges lay between those two points. It became clear that the folks I was seeing in clinic were just a subset of those I was trying to reach with the testing efforts.
To me this continuum seemed a natural progression of the focus on medication adherence. If large numbers of individuals are unaware of their infection, or not linked to care or retained in care, the impact of successful treatment and adherence interventions on a population is greatly diminished.
In the last 3 to 5 years we've seen a dramatic expansion in emphasis on linkage and retention in care. A lot of that is driven by the test-and-treat paradigm or TLC-Plus: test, link to care, plus treatment.21 This approach -- expanded HIV testing plus quick linkage to care and treatment -- should have benefits both for the individual and at the population level because identifying infected people and treating them quickly will lower "community viral load" and limit HIV transmission. We saw this in HPTN 052, an international randomized trial that ended early when antiretroviral therapy begun at a higher CD4 count for the positive partner in a discordant couple lowered the risk that the negative partner would become infected by 96%.22 Those results should stimulate even more interest in the test-and-treat concept.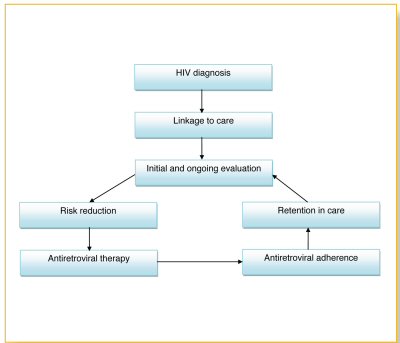 Figure 2. This simplified scheme of HIV care from diagnosis through antiretroviral therapy and retention in care indicates that care should be viewed as a seamless continuum, not a series of discrete steps.
I always stress that we need integrated approaches not just from a research perspective, but also from a practical perspective across this continuum of care (Figure 2). A newly diagnosed person doesn't think, "Now I'm going to go to my outreach intervention. Now I have to hop over to linkage to care. Now that I've made it to clinic, I'm going to focus on risk reduction, then on starting therapy, then on adherence."
Our approaches to these interventions often focus on one piece at a time, and we do need to focus on each element. But ultimately, if we really want to have impact, we need integrated approaches that map to the lived experience. Someone should go seamlessly from testing positive to getting into care, developing early behaviors around starting therapy, having good adherence to visits and to medicines -- all in a matter of months. Although test-and-treat and TLC-Plus focus on secondary prevention and population health, I think they have incredible potential to improve individual health outcomes.
Mascolini: Before we close, would you like to make any other points related to any of these issues?
Mugavero: I think the key message is that improved HIV care is going to require integration at multiple levels -- both scientifically and in practice. And over the past few years we have seen more and more integration, at the funding level and in local service delivery between medical providers, AIDS service organizations, community-based organizations, and health departments. The overriding idea is that we need approaches from testing through outcomes that match the individual's experience. People with HIV don't seek services piecemeal in discrete steps; there should be a seamless transition from one facet of care to the next.
With TLC-Plus21 and other studies, we need to determine the best way to integrate efforts and meet individuals' needs. Right now we're losing too many HIV-positive people at each step along that cascade who are not diagnosed, not linked, not retained. We must redouble our efforts to focus on helping people navigate this continuum of care as seamlessly as possible.
References