An Interview With Michael J. Mugavero, M.D.
Addressing System-Level Hurdles to Linkage and Retention
Mascolini: Turning to linkage to care, a fair amount of research has focused on patient-related factors affecting late entry to care. You published an interesting analysis of health care system and policy factors that influence linkage to care.10 How do you weigh the relative importance of these two sets of factors?
Mugavero: Both sets of factors are critically important, so you can't necessarily weigh the importance of one against the other. In that paper we explored a socioecological model that looked beyond individual sociodemographic characteristics to relationship characteristics and factors related to the community, the healthcare system, and healthcare policy.10 Most HIV linkage studies have looked at individual-level factors -- often at very fixed sociodemographic variables such as age, race, sex, and insurance status -- as they relate to delayed entry to care. But it's also important to assess how system-level and policy-level variables influence linkage and retention because system-level changes, if successful, can have broad reach. Addressing system-level obstacles can complement individual-level interventions and expand their scope.
Advertisement
For example, re-emergence of ADAP waiting lists in recent years illustrates how a policy factor can influence testing uptake and linkage to care. When people at risk for HIV or recently diagnosed with HIV see news stories about perceived or real lack of availability of medications, those stories can be a disincentive to getting tested or getting into medical care. The impact of news about something like an ADAP waiting list on testing and care decisions is hard to measure, but I think variables like these can have a great impact.
As another example of system-level factors, a number of studies show that when testing and medical services are located at the same site, people are more likely to get linked into care and are more likely to get linked expeditiously.11,12 So, at a system level, having those services co-located can help.
Another system-level variable is the waiting time between calling to make a first appointment in an HIV clinic and the actual date of that appointment.13 HIV is a life-changing diagnosis for everyone. In the weeks after that diagnosis, individuals go through a range of emotions and psychological stresses. Linking that person to care gives them access to so many resources besides medical treatment -- resources that really help them take the next steps in entering care, educating themselves, and assuming responsibility for self-care and disease management. The sooner you can make that bridge from the community to the clinic, the better.
Mascolini: Your study of the "no-show phenomenon" implicated gender, race, lack of insurance, and a long waiting time to the first appointment date as determinants of poor linkage to care.13 Clinicians can't do anything about their patients' gender, race, or insurance status. What have you done to address the waiting-time factor?
Mugavero: Historically, at our clinic the waiting time was up to 4 weeks from someone calling to schedule a first appointment until a health care provider was available. That waiting time actually increased recently to between 4 and 6 weeks. When you think about how much happens in a person's life in 4 to 6 weeks, especially at such a vulnerable time after testing positive for HIV, it's easy to see how readily barriers might arise to taking the next step and getting into care.
After we did that waiting-time analysis,13 we brought together a multidisciplinary team of stakeholders in the clinic and developed a new patient orientation program. First, we agreed that 4 weeks is too long for a first-time patient to wait and probably partly explains why one third of potential patients were not getting into care. Because the clinic didn't have the capacity to shorten the time to the provider visit, we developed a new patient orientation visit. We call it Project CONNECT.14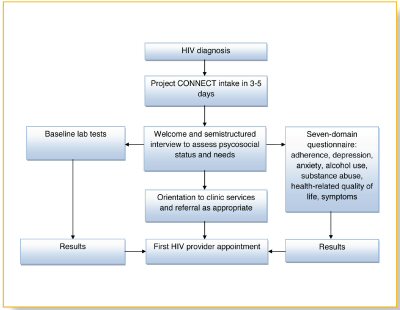 Figure 1. Project CONNECT at the University of Alabama 1917 Clinic aims to bring people to the clinic within 3 to 5 days of HIV diagnosis, to orient them to HIV care and address immediate concerns, and to begin collecting data the medical provider can use at the first care visit.
Other sites have different types of orientation visits -- a lab-only visit or a brief nursing visit. Project CONNECT is a detailed patient-focused visit led by social work services and including a semistructured interview, a psychosocial questionnaire, and baseline laboratory testing (Figure 1). The interview aims to assess how new patients are adjusting to their diagnosis, while the questionnaire captures information about depression, anxiety, substance use, alcohol use, and other factors that may be impediments to staying in care, starting therapy, and staying on medications. The orientation visit also lets individuals know what resources are available to them at the clinic.
All of this information -- expansive contextual and behavioral information in addition to baseline lab work -- lets the medical provider engage the patient immediately at the first provider visit. As a result, the clinician begins care for a new patient with rich information about social support, stigma, disclosure, depression -- many potentially modifiable factors that may present challenges to staying in care.
The CONNECT visit occurs within 3 to 5 days of someone calling, sometimes even sooner. The idea is that the sooner we can get someone from the community to the clinic, the sooner we can make that personal connection, have someone welcome them, and have someone address their early questions and concerns. If we can make that strong connection up front, it will help get new patients to the medical provider visit, make the first provider visit more meaningful and productive, and provide a foundation for successful partnerships in managing HIV.
Talking to Patients About Retention
Mascolini: You and others have outlined an array of factors that can be addressed to improve linkage to care.14 Besides shortening the time to a new patient's first clinic visit, what other factors can clinicians address to get more newly diagnosed people into care?
Mugavero: Testing is often done in nonmedical settings or at least not in an HIV medical clinic. Many people are diagnosed after testing in outreach settings, emergency departments, or hospitals and are then reported to the health department and referred to an HIV clinic. One thing clinicians can do is to develop relationships -- memoranda of understanding -- for how to work with these community partners on linkage to care. The key factor is determining how to integrate service delivery and work together.
Once someone makes it to clinic, the provider should talk openly about retention in care within the paradigm of adherence. When I give talks about these issues and ask providers how often in their encounters they talk about medication adherence, it's over 90%. Medication adherence has become engrained in our culture of providing care as HIV clinicians. I similarly encourage clinicians to talk to patients about retention in care -- not just adherence to meds, but adherence to visits.
Even brief statements can be validating: "It's great to see you today. I'm glad you made it in." If someone misses a visit, the provider should acknowledge that: "I missed seeing you last time. What's going on? What was happening?" Just paying attention to the fact that you as a provider notice whether or not a patient comes to visits and that you care sends a strong message. It's a relatively simple thing to do, and anecdotally patients respond to it.
I was encouraged to see that one of the new recommendations in the 2009 HIVMA guidelines is expanding the notion of HIV adherence beyond medication adherence to include retention in care.15 That was really encouraging because, when you look at the grand scheme of things, among all persons with HIV in the US, only a small proportion is on antiretroviral therapy.16 A lot of infected people are not linked or not retained, so we've got to pay more attention to those aspects if we're going to have maximal reach.
Mascolini: A study at your clinic determined that missing visits in the first year of HIV care more than doubled the rate of long-term mortality.17 Other studies yielded similar findings.18-20 What are the variables that raise the risk of poor retention in your clinic, and what have you done to address those factors?
Mugavero: When you look at a lot of the literature, we're focusing on factors like age and gender and race, which might help identify risk groups, but these are not modifiable factors. As the field moves forward, it's critical that we start looking at modifiable factors that might influence linkage and retention in care.
Factors that we and others have noticed include common co-occurring disorders: Depression, anxiety, substance use, and alcohol use are associated with worse retention in our clinic. By asking new patients about some of these factors during our initial CONNECT interview, we can identify individuals up front who are at high risk for worse retention in care and worse medication adherence once therapy begins. By identifying those factors early, we can refer people to appropriate services and make primary providers aware of these factors at the first clinical visit. I think screening, identifying some of those factors, and referring to appropriate treatment can be critical.
This screening and assessment should not happen once, but on an ongoing basis. These are things that can be done systematically within a clinic.