Table of Contents
Introduction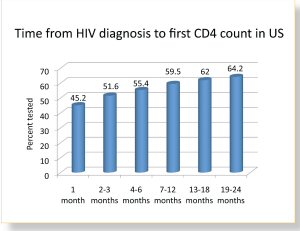 Figure 1. Among 48,413 people in the United States diagnosed with HIV infection in 2005 and 2006, fewer than two thirds had their CD4 count measured 19 to 24 months after diagnosis. This CDC calculation indicates that one third of US residents diagnosed with HIV in those years were getting no care or grossly inadequate care 2 years after testing positive.1
If HIV-positive people do get diagnosed, a dismaying fraction gets no care for months or even years. Among 48,413 US residents diagnosed with HIV in 2005 and 2006 in 37 states with name-based reporting, CDC statisticians estimated that only 55% had a CD4 count within 4 to 6 months of diagnosis, and only 64% had their CD4s tallied 19 to 24 months after testing positive (Figure 1).1 Among 38,070 people diagnosed in those states in 2005 and 2006, 31% had neither a CD4 count nor a viral load test within 12 months of diagnosis.
Proportions of people late to care were evenly distributed among people infected during gay sex (30.9%), while injecting drugs (27.7%), either during gay sex or while injecting drugs (28.1%), and during heterosexual sex (32.8%).1 In the same analysis, a bigger portion of African Americans got to care late (35.0%) than did Hispanics (29.2%) or whites (26.4%).
Linkage Estimates Both Slippery and Baleful
Although recent reports offer some data indicating sluggish entry into care after HIV diagnosis, researchers who study this issue say such data are, at best, approximations. Michael Mugavero and colleagues from the University of Alabama at Birmingham point to a simple reason for the sketchy quality of these findings: "the activities of testing and linkage [to care] are often uncoupled."2 That uncoupling also helps explain why linkage remains so poor in the United States and elsewhere.
Research on entry to HIV care suggests the ponderous scope of the problem, while outlining a web of patient- and practice-related factors that contributes to dismal linkage numbers. A study that melded national prescription data with CDC HIV prevalence estimates reckoned that 314,000 of 1,135,000 people diagnosed with HIV in 2008 (28%) were not getting care for their infection.3 The number of infected people not in care far outstripped the estimated 227,000 US residents with undiagnosed HIV infection.
Advertisement
Massing statistics from 28 entry-to-care studies that collected data from May 2005 through 2009, CDC investigators figured 72% of HIV-diagnosed people in the United States began care within 4 months of diagnosis,4 a much higher proportion than the CDC's own calculation of the proportion of people with a CD4 count measured 4 to 6 months after diagnosis -- or even 2 years after diagnosis (Figure 1).1 The metaanalysis determined that a higher proportion of people who tested positive in an emergency department than in a community center entered care (76% versus 67%).
Longitudinal study of 1266 people diagnosed with HIV between July 1, 2005 and June 30, 2006 and followed through June 15, 2007 in Philadelphia charted a median 8-month time to entering care, with a range from 1 to 26 months.5 Interviews of 1038 HIV-positive people in public hospitals in Miami or Atlanta found that 1 in 5 had not started care for their infection although they knew they had HIV for more than 5 years.6 Two in 5 of these people had not seen an HIV clinician for more than 6 months. A study of 1928 people diagnosed with HIV in 2003 in New York City found that 369 (19%) did not have a viral load test or CD4 count within 3 months of diagnosis and 331 (17%) never had a recorded viral load or CD4 count through the end of 2006.7
Entry to care is a particular concern for HIV-positive prisoners who may or may not be taking antiretrovirals when released. A retrospective study of 1750 HIV-positive inmates released from Texas prisons from January 2004 through December 2007 found that only 28% had enrolled in an HIV clinic within 90 days.8
Even after HIV-positive people begin care, they report unmet medical and dental needs, according to an analysis of the HIV Cost and Services Utilization Study (HCSUS), the first nationally representative study of people in care for HIV.9 Extrapolating from a 2864-person sample of people in care in January 1996, researchers figured that 58,000 of 230,900 HIV-positive people (25%) had unmet medical or dental needs, including 11,600 (5%) who had both unmet medical and dental needs. Low income, lack of insurance, and Medicaid insurance without dental benefits made unmet needs more likely.