Table of Contents
Introduction
More than a million people in the United States have HIV infection, and fewer than 1 in 5 has an undetectable viral load.1 That eye-popping estimate -- based on a synthesis of recently published data -- explains why HIV incidence stands at a staggering 56,000 yearly in the United States, and has since the turn of the millennium.2
You don't have to look far for the reasons behind these galling tallies: A perdurably high proportion of HIV-positive people remains untested; those who test positive sometimes never see the inside of an HIV clinic; and those who enter care drift away in waves. This triple threat to steady treatment -- late diagnosis, sluggish linkage to care, and fleeting retention -- conspire to keep the collective viral load so high that further HIV transmission is a foregone conclusion.
Researchers in Denver and Atlanta1 started their analysis with the CDC estimate that 1.1 million US residents have HIV infection and that 21% don't know it. From there, these arithmeticians cited published data to estimate that 75% of newly diagnosed people enter care within 6 to 12 months, while 80% to 90% get care within 3 to 5 years. Among people diagnosed with HIV, half do not stay in regular care. While 80% of HIV-positive people in care should start antiretroviral therapy (at the old 350 cells/mm3 threshold), 25% of that group do not begin treatment.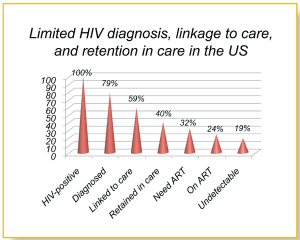 Figure 1. Of an estimated 1.1 million HIV-positive people in the United States, 79% are diagnosed, 59% enter care, and 40% stay in care, according to analysis of recently published studies.1 Of those retained in care, 80% need antiretroviral therapy (ART) (32% of 1.1 million), 75% begin treatment (24% of 1.1 million), and 60% adhere to treatment and reach an undetectable viral load (19% of 1.1 million).
Figure 1 details the dwindling ratios of HIV-positive people who get diagnosed, enter care, stay in care, get treated, adhere to treatment, and reach an undetectable viral load. The bottom line reads like this: 209,773 HIV-positive people adhere to antiretroviral therapy and have no measurable virus in blood; that number represents 60% of all those who need antiretroviral therapy and 19% of the 1.1 million with HIV.
Next the researchers used a simple model to project how much the proportion of people with an undetectable viral load would climb if 90% of infected people got diagnosed, 90% entered care, 90% started antiretrovirals, and 90% notched a viral load below 50 copies/mL. When the investigators considered these parameters one by one, none did much to improve the undetectable rate. When they combined all four parameters, the proportion of HIV-positive US residents with an undetectable viral load jumped from 19% to 66%.
This review and the one starting on page 37 analyze recent research (most from the past 5 years) addressing three facets of this problem -- late HIV diagnosis, delayed entry to care, and dropping out of care. For each problem, the review considers epidemiology, predictors, clinical consequences, and potential remedies. Interviews with Bernard Branson from the CDC and Michael Mugavero from the University of Alabama at Birmingham offer additional insights on these issues from policy-making and clinical points of view.
CDC Says Test Everyone (Almost)
As recommended CD4-count thresholds for starting therapy climb, definitions of late presentation or late HIV diagnosis also evolve. In 2011 a European consensus group proposed defining late presentation as coming to care with a CD4 count under 350 cells/mm3, while they defined "presentation with advanced HIV disease" as seeking care with a CD4 count under 200 cells/mm3.3 After analyzing 15,774 United Kingdom residents with HIV, the UK Collaborative HIV Cohort (UK CHIC) formulated essentially the same definition.4
Advertisement
To limit delayed HIV diagnosis and entry to care, in 2006 the Centers for Disease Control and Prevention (CDC) proffered a radical shift in HIV testing strategy for adolescents and adults (including pregnant women) in the United States.5 CDC experts advised health professionals to offer routine opt-out testing for everyone from 13 to 64 -- regardless of perceived HIV risk -- whenever they seek care at a medical office or hospital, unless research shows that prevalence of undiagnosed HIV infection in the area lies below 0.1%. Opt-out testing means telling a person an HIV assay will be part of their routine bloodwork unless they specifically decline HIV testing. The CDC suggested pretest counseling and separate consent for HIV testing could be skipped. Repeat HIV testing is left to the provider's discretion, based on perceived HIV risk. The CDC recommended at least annual testing for high-risk groups. The US Preventive Services Task Force outlines the following HIV risk factors:6
Men who have had sex with other men since 1975
Men and women who have unprotected sex with multiple partners
Past or present injection drug users (IDUs)
Men and women who exchange sex for money or drugs or have sex partners who do
People whose past or present sex partners are HIV positive, bisexual, or IDUs
People being treated for sexually transmitted diseases
People who had a blood transfusion between 1978 and 1985
People who request an HIV test
The CDC adds another high-risk category: anyone -- gay or straight -- "who themselves or whose sex partners have had more than one sex partner since their most recent HIV test."5
Because people who know they have HIV may be more likely to avoid risky sex, the CDC argues, knowledge of HIV status "in unaware persons" might reduce new HIV infections by 30%.7 And of course knowing one's HIV status is the first step to care. Although plenty of people disagree with the CDC strategy (see "Universal opt-out testing: pros and cons" below), no one doubts the pernicious impact of late HIV diagnosis on individual and public health. And as detailed in the next section, CDC data suggest the revised testing guidance has already begun to turn the tide.