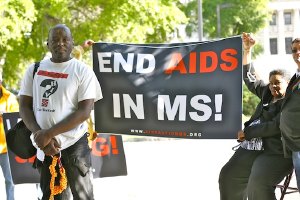 Versher was one of several activists who protested at the state capitol in April, calling on the government to form a plan to fights AIDS in the state.
On July 13, 2010, President Barack Obama released the nation's first-ever National HIV/AIDS Strategy. In it, he called upon each state to develop a plan to confront the epidemic. Yet more than 400 days since this groundbreaking strategy was released, Mississippi's legislators have yet to even begin developing a plan.
Therefore, AIDS Action in Mississippi and Mississippi in Action -- in coalition with thousands of people in this state living with HIV -- call upon our legislators to pass a law requiring the state to have a comprehensive AIDS plan in place by July 13, 2012.
For far too long, the state has ignored the effects this virus is having on its residents. Officially, there are 9,214 people living with HIV/AIDS in Mississippi. Yet an astounding 50 percent of them are not getting care because the state fails to provide access to health services, affordable housing and transportation. Stigma, fueled by lack of information about the virus, is perhaps the biggest hurdle to getting HIV-positive people to seek help.
When our HIV-positive friends, family members and neighbors don't get treatment, all Mississippians lose. Emergency hospital and housing bills cost the state millions. And when HIV-positive people can't access successful treatment and housing, we increase the risk that they spread the virus, exacerbating the epidemic.
To solve this pressing issue, the Mississippi government must take advantage of millions of dollars in federal funding that is available to help people with AIDS find affordable housing. The government must require medically factual, comprehensive and age-appropriate sex education -- young people are not getting the information they need. Lastly, the government must work to stop widespread discrimination against Mississippians living with HIV.
This virus knows no boundaries. Black, white, male, female, gay straight, rich and poor -- all of as are affected. We need an AIDS strategy to keep all of us healthy.
As a field organizer at AIDS Action in Mississippi, Versher galvanizes his community to push for policy changes that create a healthier state. He's been living with HIV for more than 20 years.