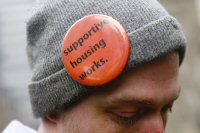 City Council fully restored funding for HASA's supportive housing services at $5.1 million.
City Council has just released budget documents for fiscal year 2012, and the news for AIDS advocates is pretty good.
The documents confirm what the Update posted yesterday -- that City Council fully restored funding for HASA's supportive housing at $5.1 million.
This is a win for AIDS advocates, who feared the cut would rip critical services from the neediest New Yorkers living with AIDS.
The documents also show that City Council fully restored the food and nutrition program run by the Momentum Project, a contract worth $995,000.
Advertisement
The council also restored funds for the client advocacy and representative payee program administered by GMHC at $200,000. Though this is a reduction over the previous year, state and federal matching funds may fill the gap.
Also included in the documents were funding amounts for City Council's HIV/AIDS initiatives. Communities of Color; the Injection Drug Users Health Alliance; and HIV Literacy for Seniors all saw reductions. The Faith-Based Initiative and City Council's funds for rapid testing were held harmless.
The bad news, of course, is that HASA clients will still be subject to new policies that limit HRA's contribution to brokers' fees at half a month's rent. This policy is going to prove detrimental to clients' ability to find housing. It will ultimately cost the city more money by keeping people in emergency housing for longer periods of time. This policy is something that tenants and AIDS housing advocates will continue to work on with HASA and the City Council.
The City Council is expected to vote on the budget tonight.
Follow the Update blog on twitter @housingworks.