Table of Contents
Introduction
We'll likely look back on May 2011 as a landmark month in the history of hep C treatment: It brought the approval in the U.S. of two new hep C drugs, Incivek (telaprevir) and Victrelis (boceprevir). They are the first two drugs approved for the treatment of hep C in almost a decade.
Advertisement
Although Incivek and Victrelis have only been approved to fight a specific strain of hep C, known as genotype 1, they have the potential to virtually double the chances of treatment success for many people living with that strain. Which is a good thing, since genotype 1 is the most common strain of hep C in the U.S. -- and the hardest to treat.
To help explain why these new hep C drugs are such a big deal, we spoke with Barbara McGovern, M.D., an associate professor of medicine at the Tufts University School of Medicine, and a member of the Antiviral Drugs Advisory Committee of the U.S. Food and Drug Administration (FDA), which unanimously recommended both drugs for approval in April (a recommendation the FDA clearly took to heart). Below is a transcript of the interview.
(To learn the basics about each drug, read AIDS InfoNet's fact sheets on Incivek and Victrelis. If you have specific questions about these new drugs, or about treatment of HIV/hepatitis C coinfection in general, you can ask Dr. McGovern directly in our "Ask the Experts" forum on coinfection.)
How the New Drugs Work -- and How Well They Do It
Myles Helfand: Let's start with the basics on boceprevir and telaprevir. What makes them different from the drugs that we have long had for hep C treatment?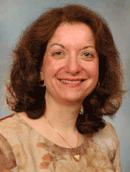 Barbara McGovern, M.D.
Barbara McGovern: There are vast differences. Pegylated interferon is a nonspecific antiviral medication that pretty much regulates a person's immune system. So it makes it more efficient at fighting the hep C virus. Whereas both boceprevir and telaprevir are targeted drugs, specifically for hepatitis C. And because of that, they are very effective, and they're very potent, because they act at one part of the viral lifecycle. That is why we are seeing dramatic falls of viremia in a very short period of time.
Myles Helfand: Why is it that these drugs have to be used in concert in peginterferon and ribavirin?
Barbara McGovern: The bottom line is that when they tried to use these medications alone, there was the development of rapid resistance. So it's very akin, in that way, to HIV -- where, if you think back to certain drugs that were used, any short period of exposure to monotherapy leads to rapid development of resistance. For example, with lamividine (Epivir, 3TC). The same thing would happen with hepatitis C -- that we see the development of resistance very quickly.
Myles Helfand: So there are no treatment situations, then, in which we're talking about a mix-and-match type situation? This is always one of the two peginterferon drugs; ribavirin; and one of the two new protease inhibitors?
Barbara McGovern: You know, what was really interesting: A lot of people were just hoping we could get rid of ribavirin because of the anemia issues. So when telaprevir was studied without ribavirin, and just in combination with peg[interferon]; what was interesting about that was, when you looked at the on-treatment responses, they weren't so far off.
But where you really saw the problems was in relapse. Once you stopped the treatment with peg and telaprevir, you saw that a lot of the patients had rebound viremia off the two drugs -- which shouldn't be surprising to anyone, knowing that what we learned about ribavirin eons ago, back in 1998, was that ribavirin had a very important role in the prevention of relapse.
Ribavirin has never been thought of as a very potent antiviral. But it does have this very special property, and no one's quite sure [what it is]. There are a lot of mechanisms that have been proposed for ribavirin.
Myles Helfand: So, when you take the two drugs we've long used for hep C treatment and you add either boceprevir or telaprevir into the mix, how are cure rates impacted?
Barbara McGovern: When telaprevir was studied with peg and ribavirin, and then there was another arm of telaprevir and just peg alone, it was the same phenomenon: The on-treatment response looked OK. But then when you stopped all treatment, there were a lot of relapses in the dual-therapy arm of peg and telaprevir. So it was very obvious that even though you had these potent protease inhibitors on board, ribavirin is a special drug in preventing relapse. And we still need it; there's no question.
Myles Helfand: What are we actually talking about in terms of percentage differences in SVR with adding one of these protease inhibitors to a hep C regimen? [SVR is short for "sustained virologic response," which means that there's no sign of hep C in a person's blood six months after stopping hep C treatment. It's the gold standard measurement for treatment success.]
Barbara McGovern: It's a really dramatic difference. For genotype 1 infections, the big Phase 4 studies that have been done [in which people took peginterferon and ribavirin] showed response rates of 42 to 46 percent. A few studies sometimes eked out about 50 percent. But that was pretty much where you could get.
Whereas with the addition of a protease inhibitor, you're seeing response rates of 75 to 80 percent.
Myles Helfand: And this is for type 1, right? Which is the least treatable of the hepatitis C types.
Barbara McGovern: That's exactly right. So it's very exciting.
The telaprevir trial that is in progress right now: We don't have SVR data from it, but we do have 12-week data in HIV/hepatitis C-coinfected people, and that 12-week data looks fabulous. It looks like about 70 percent of patients obtain virologic suppression by week 12. Now, that doesn't tell us what the SVR rate will eventually be. But it's pretty darn exciting because that is a tremendous number, a tremendous proportion of patients who are attaining virologic suppression at an early time point. In fact, even the week 4 data look really strong.
A very important point is that these drugs haven't been studied for any other genotype except for genotype 1. For telaprevir, there is some data that it might be effective against genotype 2. For boceprevir, I'd have to double check this, but I'm pretty certain it doesn't have other suspected activity against other genotypes.
So for genotype 3 patients, the protease inhibitors don't really add anything. In the U.S., we're dealing with genotypes 1, 2, and 3 -- mainly genotype 1. So it's really great news for the vast majority of patients. But we can't generalize it to all hep C patients.