HIV MANAGEMENT TODAY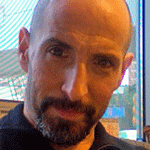 Cardiovascular Risk Management in HIV Care: Facing Reality
An Interview With David Alain Wohl, M.D.
Mental Health & HIV, the Uncharted Territory
A Conversation With Francine Cournos, M.D., and David Fawcett, Ph.D., LCSW
The Nuts and Bolts of Implementing HIV Pre-Exposure Prophylaxis (PrEP) in Clinical Settings
An Interview With Antonio E. Urbina, M.D.
HIV CARE TODAY
A multi-author blog featuring professionals on the frontlines of HIV treatment, prevention and care.

HIV Opportunistic Infection Guidelines Updated
A Blog Entry by Paul E. Sax, M.D.

MyHIVclinic.org: Rethinking How We Learn to Practice HIV Medicine?
A Blog Entry by Benjamin Young, M.D., Ph.D.

How to Interpret Medical Breakthroughs in the Mainstream Media
A Blog Entry by Paul E. Sax, M.D.

Data Safety Monitoring Board Closes HIV Vaccine Study -- the End of Adenovirus as a Vaccine Vector?
A Blog Entry by Paul E. Sax, M.D.

Lost and Found: Helping Patients Develop Emotional Resilience
A Blog Entry by David Fawcett, Ph.D., L.C.S.W.